Elite in Every Specification
It has an ultra-lightweight, ergonomic design for ease of handling long battery life and AED function. This makes the CXDI-Elite the ideal digital radiography detector for mobile applications or any general x-ray need. The unique functions, Intelligent NR and built-in AEC** assistance expand the digital radiography possibilities.
CXDI-720CW : 14" x 17" (5.1 lb. with battery)
CXDI-820CW : 11" x 14" (4.0 lb. with battery)
CXDI-420CW : 17" x 17" (6.0 lb. with battery)
*AED: Automatic Exposure Detection
**AEC:Automatic Exposure Control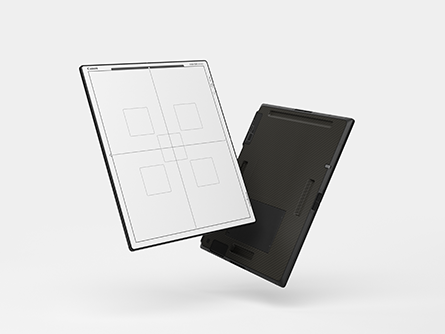 High Image Quality
Canon developed a newer generation high performance scintillator which produces higher image quality than ever before. Thin and clean CsI pillar crystals can provide sharper images with both high DQE and MTF value.
DQE : 16% improvement


from prior models @ 0.5 lp/mm

MTF : 29% improvement


from prior models @ 2 lp/mm

Built-in AEC Assistance*
The CXDI Elite series allows for automatically terminated exposures without the use of an additional receptor (ion chamber, solid state paddle, etc.)
There are 5 or 9 AEC Regions of Interest (ROI) depending upon model.
This FPD can detect the accumulated pixel value corresponding to received X-rays in real time at each AEC ROI and notify the X-ray generator when the pixel value reaches the preset value.
This function works via both wireless and wired communication, which enables the optimization of X-ray dose without an external AEC sensor, even in free-position imaging such as bed side.
*Option software sold separately and Multibox (MB-02) is also required
Built-in AEC Assistance brochure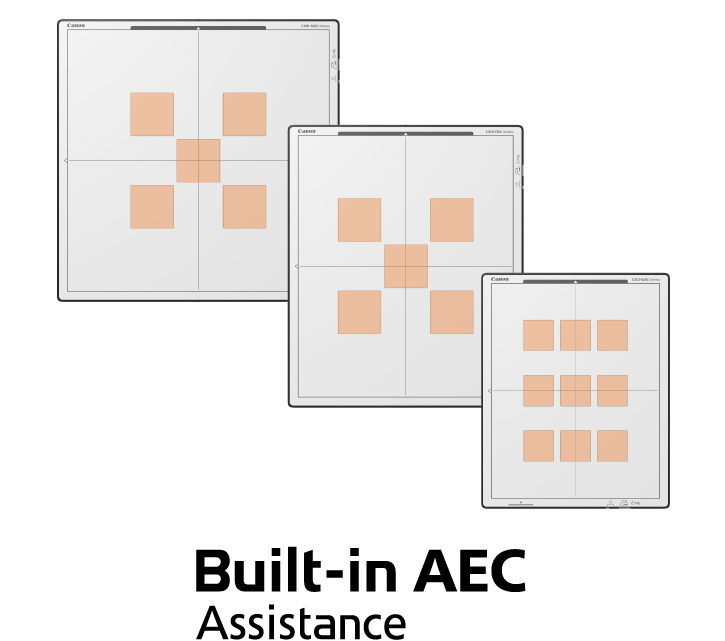 Intelligent NR*
Canon's original image processing product using a pre-learned model which has been trained by Artificial Intelligence (AI) on noise characteristics in X-ray images in clinical image database.
Learn More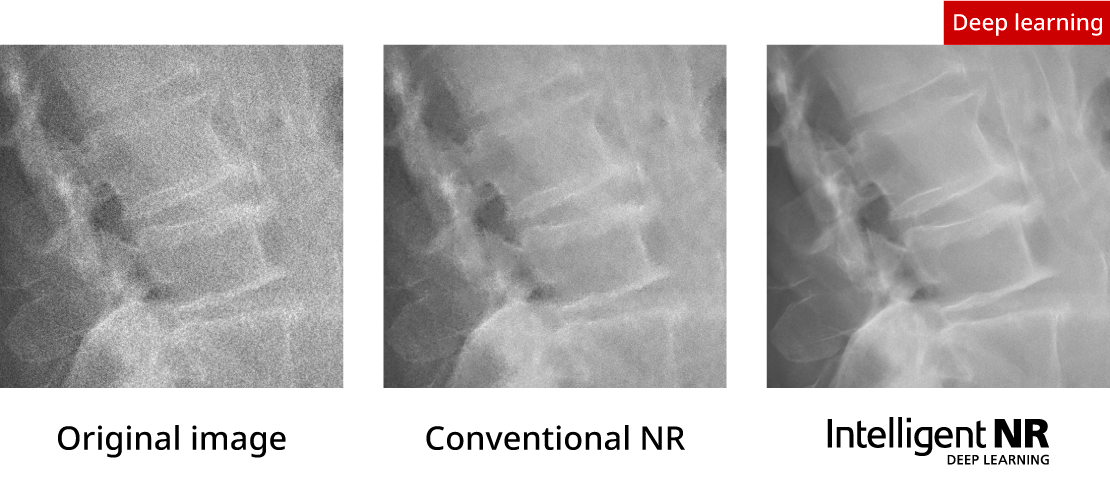 Easy Handling, Sleek Detector Design
The sleek, tough, and ergonomically sculpted design includes the following features to enhance the user and patient experience:
Comfortable to hold and easy to grip due to the light weight and ergonomic handgrips (9.15mm depth) sculpted into the detector.
High-quality composite materials and low weight
Designed with form and function in mind.
Easy to position and comfortable for patients and technologists due to smooth, rounded corners.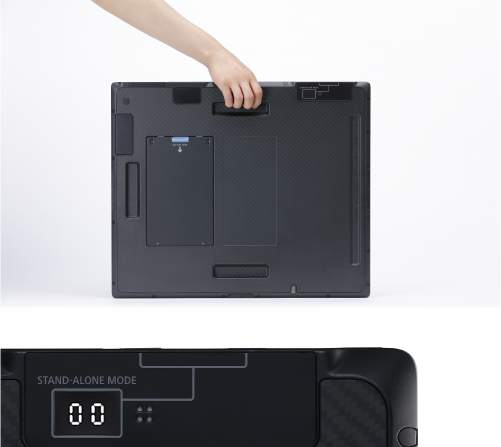 Quick Ready
It takes only 3 seconds* to be ready, these detectors can be used whenever you want.
*Depending on acquisition mode.
IP57 – Rated
Each detector is IP57-rated for protection against dust and liquid intrusion.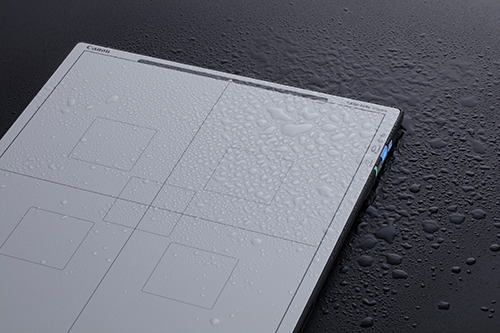 CXDI Control Software NE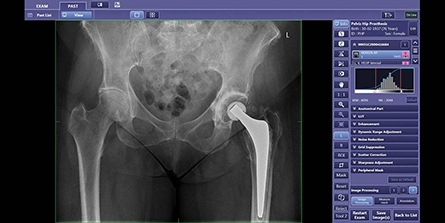 CXDI Control Software NE is made exclusively for use with Canon CXDI Wireless Detectors and helps to optimize workflow and reduce steps needed to complete exams.
Operates on Windows® 10
IHE and DICOM compliant
Flexible DICOM® configuration for worklist and export of images
Very efficient workflow when exams are codified in the worklist and combined with integrated generator
Available touch-screen operation including "pinch to zoom"
Scatter Correction feature for non-grid exams (sold separately)
Standard image stitching function for up to four images
Learn More
CXDI-Elite Wireless Digital Radiography Systems Specifications
Model Name
CXDI-720C Wireless
CXDI-820C Wireless
CXDI-420C Wireless
Purpose
General Radiography
Method
Flat panel detector: scintillator & amorphous silicon (a-Si)
Scintillator
Cesium Iodide
Weight (incl. battery)
5.1 lb. (2.3 kg)
4.0 lb. (1.8 kg)
6.0 lb. (2.7 kg)
Effective Imaging Area
350 x 426 mm
(14 x 17 in)
274 x 350 mm
(11 x 14 in)
426 x 426 mm
(17 x 17 in)
External Dimensions
384 x 460 x 15 mm
(15 x 18 x .6 in)
307.5 x 384 x 15 mm
(12 x 15 x .6 in)
460 x 460 x 15 mm
(18 x 18 x .6 in)
Image Matrix Size
2800 x 3408 pixels
2192 x 2800 pixels
3408 x 3408 pixels
Pixel Size
125 μm
Limiting Resolution
4.0 lp/mm
Grayscale
A/D: 16 bit
DQE
Typical 74% (0 lp/mm), 67% (0.5 lp/mm) ■
MTF
Typical 45 % (2 lp/mm)
Time for ready
3 second♦
Preview Image Time
1 second♦
Cycle Time
4 seconds♦
Dust, Water​
-Resistance Rating
IP57 ( For dust protection against limited dust ingress and water protection against submersion in water up to 1 meter for 30 minutes)●
Battery Performance
Generator Connection Mode (Interlocked Exposure)
Max. 2,000 images @ 4 second cycle, Avg. 160 images @ 100 second cycle.○
Automatic Exposure Detection Mode
Max. 1,900 images @ 4 second cycle, Avg. 145 images @ 100 second cycle○
Charging Performance
Battery charging time approx. 150min.†
Wireless standard
IEEE802.11ac
Wireless Channel/Band
2.4 GHz, 5 GHz
Optional Function Compatibility
Built-in AEC Assistance††, Intelligent NR, Scatter Correction
■ 0 lp/mm is extrapolated value IEC62220-1-1 2015 (RQA5).
♦ Depending on acquisition mode.
● Based on tests conducted by an independent institution. Certification does not guarantee against failure or damage.
〇 Dependent on acquisition workflow.
† At an ambient temperature of 77º F.
†† Exposure termination is controlled by the x-ray generator and this feature requires connection to that system to be implemented by the manufacturer.
In an environment with exceptionally strong radio interference, it may be recommended to use a wired rather than wireless connection. As with any AEC operation, appropriate exposure factors with a reasonable backup time should be set.
† † Specifications subject to change without notice.
Return to Top