Canon's CXDI - Pro Wireless Detectors
The Canon CXDI-Pro wireless digital radiography systems are designed to support the demands of medical imaging departments for cost-effective solutions without compromise. These new wireless detectors provide features that optimize workflow and offer the high quality and reliability that you have come to expect from Canon.
CXDI-703CW : 14" x 17" (6.4 lb. with battery)
CXDI-803CW : 11" x 14" (4.6 lb. with battery)
CXDI-403CW : 17" x 17" (7.7 lb. with battery)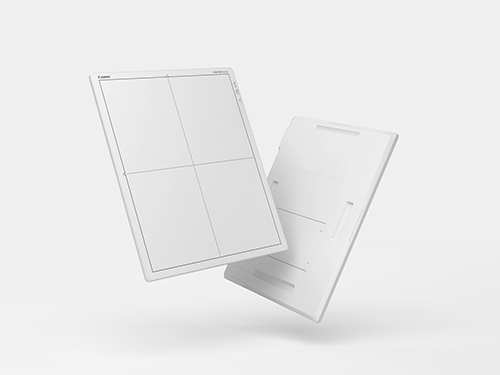 AED Function
These Digital Radiography Detectors are equipped with AED (Automatic Exposure Detection) functionality. In this mode, the start of radiation is automatically detected by the sensor panel at exposure time. This allows the use of the panel without a typical exposure interlock with the generator (which may require additional wiring).
IP55 Dust and Waterproof
Contact with fluids and dust is inevitable, particularly in emergency and high-dependency care. Our IP55 protection against dust and liquid entering the FPD provides you with extra assurance in the product, while it is in use under challenging conditions, or when cleaning the product for safety.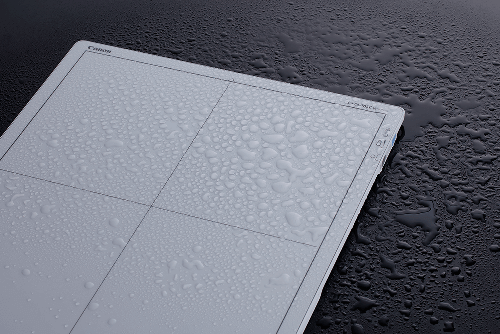 Sleek Detector Design, Easy Handling & Easy Cleaning
The sleek, tough, and ergonomically sculpted design includes the following features to facilitate the user and patient experience:
Comfortable to hold and easy to grip due to the lightweight and ergonomic handgrips(6.8mm depth*) sculpted into the detector.
Easy to position and comfortable for patients and technologists due to smooth, rounded corners.
No screw on the surface design can keep it clean.
*CXDI-703CW and 403CW detector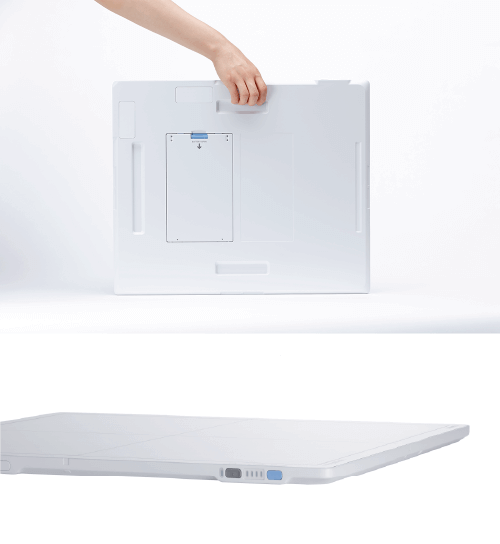 Quick Ready
It takes only 4 seconds* to be ready, these detectors can be used whenever you want.
*Depending on acquisition mode.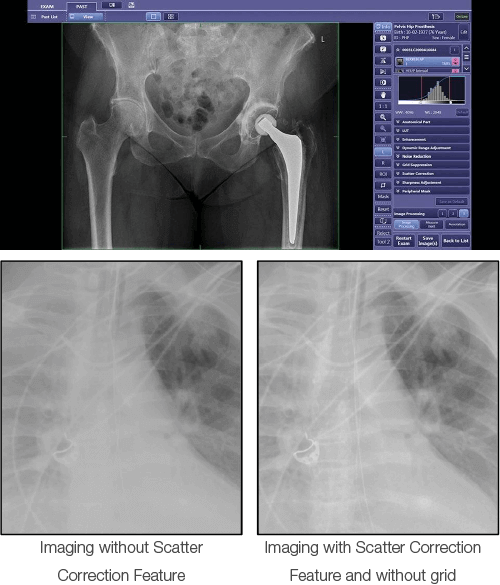 CXDI Control Software NE
The CXDI-Pro series Wireless Detectors require CXDI Control Software NE to operate. The software is exclusively for use with Canon CXDI Wireless Detectors and helps to optimize workflow while producing high-quality images.
Operates on Windows® 10
IHE compliant
Flexible DICOM® configuration for worklist and export of images
Ability to rotate images
Available touch-screen operation including "pinch to zoom"
Scatter Correction feature for non-grid exams
Standard image stitching function for up to four images
Learn More
Optional Tethered Operation
The tethered option, which includes a cable(Sold separately), can help provide quick and reliable connection when mounted in your system's Bucky device.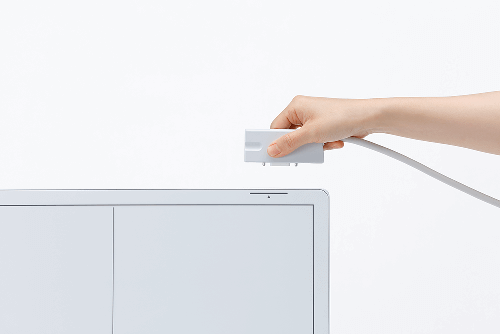 CXDI-Pro Wireless Digital Radiography Systems Specifications
Model Name
CXDI-703C Wireless
CXDI-803C Wireless
CXDI-403C Wireless
Purpose
General Radiography
Method
Flat panel detector: scintillator & amorphous silicon (a-Si)
Scintillator
Cesium Iodide
Weight (incl. battery)
6.4 lb. (2.9 kg)
4.6 lb. (2.1 kg)
7.7 lb. (3.5 kg)
Effective Imaging Area
349 x 426 mm
(14 x 17 in)
273 x 349 mm
(11 x 14 in)
426 x 426 mm
(17 x 17 in)
External Dimensions
384 x 460 x 15 mm
(15 x 18 x .6 in)
307.5 x 384 x 15 mm
(12 x 15 x .6 in)
460 x 460 x 15 mm
(18 x 18 x .6 in)
Image Matrix Size
2496 x 3040 pixels
1952 x 2496 pixels
3040 x 3040 pixels
Pixel Size
140 μm
Limiting Resolution
3.5 lp/mm
Grayscale
A/D: 16 bit
DQE
Typical 65% (0 lp/mm), 58% (0.5 lp/mm) ■
MTF
Typical 35 % (2 lp/mm)
Time for ready
< 4 second♦
Preview Image Time
1 second♦
Cycle Time
< 5 seconds♦
Dust, Water​
-Resistance Rating
IP55 (For dust protection against limited dust ingress and water protection​
against low pressure water jets from any direction)●​
Battery Performance
>1,500 images @ 7 second cycle, >140 images @ 100 second cycle.
Charging Performance
Battery charging time approx. 150min. ○
Wireless standard
IEEE802.11ac
Wireless Channel/Band
2.4 GHz, 5 GHz
■ 0 lp/mm is extrapolated value IEC62220-1-1 2015 (RQA5).
♦ Depending on acquisition mode.
● Based on tests conducted by an independent institution. Certification does not guarantee against failure due to damage.
○ At an ambient temperature of 77º F. Detector Stand is sold separately.
† † Specifications subject to change without notice.
Return to Top